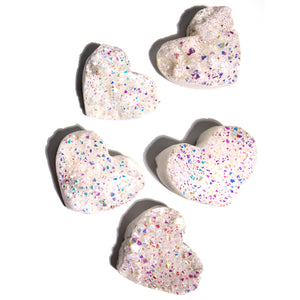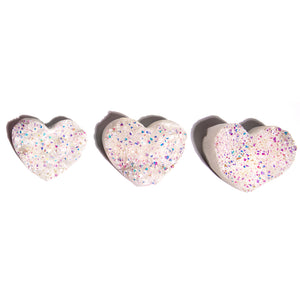 Angel Aura Heart Cluster
Regular price
Sale price
$45.00
---
Angel Aura Heart Cluster
'The angel guide'
I am clear quartz enhanced by modern alchemy. I have had minerals and precious metals electrostatically bonded to my surface, creating my pearly sheen with pale rainbow iridescence. This intensifies my original elements of clear quartz, plus emits a unique set of new energies associated with joy, hope and optimism.
I am high vibrational with a very intense, strong energy that cleanses the aura. I work to stimulate, balance and clear all chakras. I amplify energetic vibrations and thought, as well as the effects of other crystals which makes me a great piece to add to any room in the house. I don't hold negative energy. I absorb, store, and regulate the release of energy, exactly what you need to bring you back to a sense of balance. My gift is patience and focus with a deep state of meditative awareness.
Properties: Inner peace. Confidence. Intuition. 
Use: A stunning styling piece. Place flat or on it's side for interest when placing with other crystals or items. Aura pieces are often loved by children for the reflective rainbow quality. Perfect to place in a little ones room to emit a cleansing and calming energy for peaceful sleep.
Shape: Heart - the universal symbol of love, designed to welcome pure thoughts into your space.
Colour: Clear Quartz is transparent, associated with colour such as 'white light'. Angel aura adds a rainbow iridescence to the surface representing the reflection and refraction of unique moments. White - hope, illumination and unity. Rainbow - harmony and joy.
Chakra: All - working on aligning all seven chakras.
When your chakras are in alignment, your physical self and spiritual self are fully receptive to the energy of the universe. You'll feel deeply at peace and brimming with vitality. You are aligned with a stable chakra energy centre within you that nourishes you from the inside out.
Intention: For added meaning set an intention to your piece or use a mantra such as 'Good energy is contagious' or 'Every cell in my body vibrates with positive energy'. 
Country of origin: Brazil
Interesting: Angel aura is thought to be especially protective and uplifting during pregnancy. It is also said that placing angel aura in a baby's room will help them to settle and sleep peacefully. The perfect modern gift for a mama to be or as gift for babys first birthday.
Sizes:
Mini 4cm W x 3.5cm L x 2cm H.
Small 4.5cm W x 4cm L x 2cm H.
Medium
4.5cm W x 4cm L x 3cm H
.
Comparison picture shows sizes mini, small, medium (left to right).
The item you are sent may vary slightly from the one pictured although will always be similar. The piece has been hand shaped from a natural stone and the shape may not be perfectly symmetrical.
Cleansed with Palo Santo & charged under the full moon.