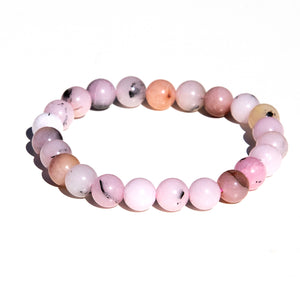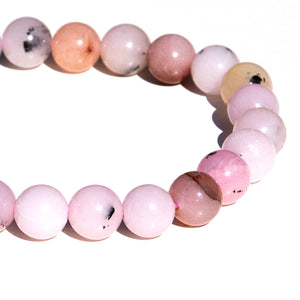 Australian Pink Jade Bracelet
Regular price
Sale price
$40.00
---
Australian Pink Jade
'The heartbreak healer'
I am here to heal your broken heart. Together we will deal with mending your emotional wounds, shedding your emotional baggage and softening your heart to return to a place for receiving and giving love in abundance. Work with me to overcome any bitterness or negativity you may hold due to past headache. Through this healing journey I aim to see you regain your inner confidence, allowing new connections focused on honesty, love, and happiness to be formed.
My energy is soft with a protective element. Due to my amazing calming effect on the mind and heart I am considered to be of benefit with maintaining patience, self control, inner strength and restorative sleep. Breath out negativity, breath in love and light. 
Properties: Love. Healing. Calming. 
Use: Crystal on skin contact worn on the wrist, placed under the pillow to assist with sleep.
When crystals have direct contact with the skin they are better equipped to transmute their powers and healing vibrations in alignment with your own energy.
Shape: Round - the spherical shape of these beads allows an even flow of energy
Colour: Usually light pink with peachy tones and black inclusions. Pink - happiness. Peach - sweetness. Black - protection.
Chakra: Pink Jade connects the heart and solar plexus chakras. When in alignment they work to provide you with feelings of self belief and confidence. Creating a calming joyful reality you can develop and flourish in.
Solar Plexus - the third chakra located in the upper belly at the diaphragm. It is the energy centre for personal power including confidence and self-esteem. It helps with feeling in control of your life. When aligned we can expect to live with a strong sense of identity, purpose and confidence.
Heart - the fourth chakra located at the centre of the spine at heart level. It is the centre of compassion, empathy, love, and forgiveness. When balanced brings feelings of connectedness, depth in relationships with others and love for oneself.
Intention: For added meaning set an intention to your piece or use a mantra such as 'I am being filled with love and light' or 'I send out love and am ready to receive it'. 
Country of origin: South Australia.
Interesting: Considered helpful in times of change and adjusting to new environments. Thought to be especially beneficial to women who are in or near menopause. 
Please be aware each bracelet is made from natural stones. The item you are sent may vary slightly from the one pictured although will always be similar. Each bracelet consists of natural stone beads and elastic.
Approximately 18cm circumference to fit over the average size adult hand and sit comfortably on the wrist. Beads are 8mm each.
Cleansed with Palo Santo & charged under the full moon.