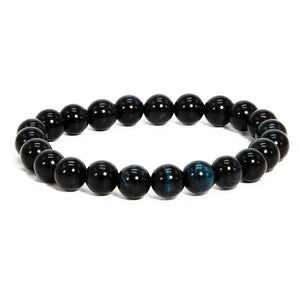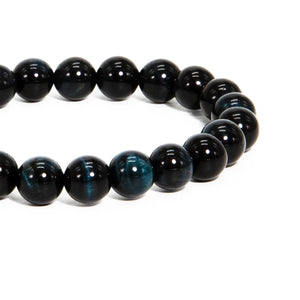 Blue Tigers Eye Bracelet
Regular price
Sale price
$40.00
---
Blue Tigers Eye
'The Soothing Stone'
The stone of self soothing, I am here to help reduce your stress, ease your anxieties, and increase your state of calm and relaxation. Your encourager for effective communication. Sending positive energies to increase your feelings of self-respect and self-worth. Unleashing your confidence to harness your personal power and stay honest with yourself. Assisting you to be less pessimistic, helping you take responsibility instead of blaming others. I aim to guide you in understanding emotions more easily to provide insight into your internal dialogue and emotional states to encourage going with the flow. When you have a relaxed and calm attitude, it will be easier to overcome your fears, remain calm, and alleviate your worries.
Through support to unload what's in your heart, and clear your thoughts I hope to assist with turning dreams into reality. I fill the aura with a fiery confidence. Pushing you to reach new heights while remaining grounded and focused. Bringing your ideas to life and making positive changes. This comes through mental clarity, focus and a more in-depth insight into your experiences. Patience, tolerance, acceptance, and open-mindedness are my greatest gifts to you. Speak your truth, trust in your intuition and act from a place of softness - including towards yourself.
Properties: De-stress. Power. Insight. 
Use: Crystal on skin skin contact worn on the wrist, stacked or singularly. 
When crystals have direct contact with the skin they are better equipped to transmit their vibrations in alignment with your own energy.
Shape: Round - the spherical shape of this pop socket allows an even flow of energy.
Colour: Blue tigers eye is a distinct dark blue colour with a cats eye reflective quality in the light. These pieces are a high quality navy with midnight blue banded reflections. Dark blue - calm, trust & stability. 
Chakra: Throat - the fifth chakra located at the base of the throat. This chakra is responsible for communication, self-expression, and the ability to speak your personal truth. When aligned brings the feeling of freedom and empowerment to understand the authentic self.
Intention: For added meaning set an intention to your piece or use a mantra such as 'I am a strong and confident person', 'I attract positive energy' or 'I am prepared for what is being revealed'. 
Country of origin: Brazil.
Interesting: Tiger's eye can be used as a good luck stone. Inspiring confidence while protecting you. Confidently stepping up and taking action to further your life. Challenging you to step outside of the box and make a positive impact on the world around you. 
Please be aware each bracelet is made from natural stones. The item you are sent may vary slightly from the one pictured although will always be similar. Each bracelet consists of natural stone beads and elastic.
Approximately 18cm circumference to fit over the average size adult hand and sit comfortably on the wrist. Beads are approx 8mm each.
Cleansed with Palo Santo & charged under the full moon.