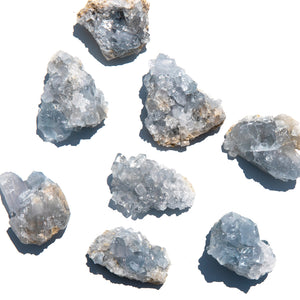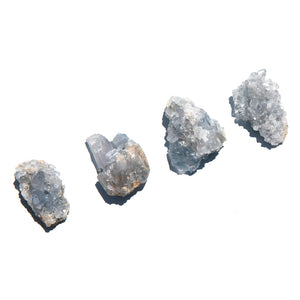 Celestite Cluster Mini
Regular price
Sale price
$11.00
---
Celestite Cluster Mini
'The deep breath'
I am an angelic crystal, associated with mental clarity and a higher purpose. I aim to provide the space for inner balance and a deep sense of peace to enter your entire being - tranquil thoughts transcended into calm action. Sit with me, take a deep breath, release tension and relax. Trust that I am on your side, providing the comfort of your guardian angels. I am high vibrational. My greatest gift to you is a feeling of lifting you to higher planes of being. Dreamlike and heavenly, work with me to elevate the spirit.
Liken working with me to that of a metaphorical chill pill. Aiming to quieten the busy mind, I invite you to process your emotions. Sit in stillness, connect to your inner strength. When you achieve this balance you are better equiped to communicate from a place of compassion with a soft vulnerable heart rather than speaking words of anger in the heat of the moment. Let me assist you with the passing of the storm. 
Properties: Purity. Balance. Peace. 

Use: A styling piece to infuse your space with gentle calming energy. Smaller pieces like this are perfect to add beauty to your crystal grid. Placement in the bedroom or place of sleep is recommended. 
Shape: Cluster - naturally formed pieces. These pieces are irregular shapes and no two are the same.
Colour: Heavenly hue of light blue with some natural light coloured rock. Due to the natural shape of pieces light reflection adds an etherial quality to the colouring. Blue - calming. 
Chakra: Third eye - the sixth chakra located in the centre of your head, parallel to the middle of your eyebrows. It acts as the centre of wisdom, conscience, and higher consciousness. When aligned you can expect the practice open mindedness and self actualisation to feel more obtainable.
Intention: For added meaning set an intention to your piece or use a mantra such as 'I encompass love and peace', 'I accepted the truth of the situation' or 'I feel supported by my guardian angels'. 
Country of origin: Madagascar.
Interesting: Celestite is a geode crystal composed of the element Strontium Sulfate. This element is often mixed with metal to create the blue sparks of fireworks.  Illuminating just a hint of the magic embodied in this heavenly stone. 
Measurements: Approximately 3cm. Purchase includes one Celestine cluster in our mini size.
Each piece is unique due to the natural formation. These pieces are intuitively chosen. We do our best to keep our stock consistent. Photos provide an indication of quality you will be sent.
Chipping may be present due to the nature of mining, the delicate nature of the stone and travelling the world to be received by you but rest assured these small pieces are high vibrational. 
Cleansed with Palo Santo and charged under the full moon.