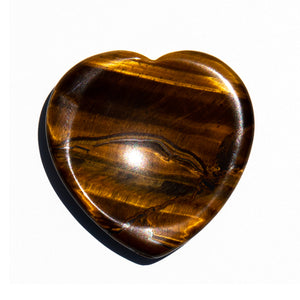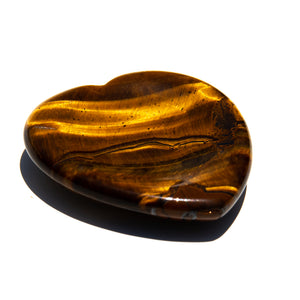 Heart Worry Stone - Golden Tigers Eye
Regular price
Sale price
$20.00
---
Golden Tigers Eye
'The shape shifter'
Work with me to gain control of your mind through focus and mental clarity to resolve problems objectively and unclouded by emotions. Let me assist you to dispel feelings of fear and anxiety. I cut straight through any lack of motivation to shift focus and encourage an active approach to life.
As the tiger is a queen of the jungle - strong, courageous, and ever ready to pounce, I encourage you to accept all angles of yourself. Life is unpredictable and personal strength is required to remain balanced.
Stand tall in your light, radiating it to those around you as you achieve your highest successes confidently and gracefully. My energy is a wild force providing the energy flow for change. 
Properties: Inner strength. Protection. Balance.
Use: Gently trace your thumb around the smooth centre indentation as a mindfulness tool to release worries. A great meditation accompaniment. 
When crystals have direct contact with the skin they are better equipped to transmit their vibrations in alignment with your own energy.
When crystals have direct contact with the skin they are better equipped to transmit their vibrations in alignment with your own energy.
Shape: Heart - the universal symbol of love, designed to welcome pure thoughts into your space.
Colour: Golden tigers eye is a distinct golden brown colour with a cats eye reflective quality in the light. This piece is a high quality gold with dark banded colourings. Gold - love, wisdom, courage. Black - protection, depth of connection to the physical world, relieving fears.
Chakra: Tigers eye connects both the sacral and solar plexus chakras. When in alignment they work to provide you with feelings of balance and joy. Providing motivation to be your most authentic self in all you do and taking responsibility in every choice you make. Creating the reality you want to live in.
Sacral - the second chakra located right below the navel in the centre of your belly. It is the energy centre for pleasure and the overall enjoyment of life. When aligned we can expect the relationship with ourselves and the world to feel harmonious, pleasureful, and nurturing.
Solar Plexus - the third chakra located in the upper belly at the diaphragm. It is the energy centre for personal power including confidence and self-esteem. It helps with feeling in control of your life. When aligned we can expect to live with a strong sense of identity, purpose and confidence.
Intention: For added meaning set an intention to your piece or use a mantra such as "I know who I am and I live true to myself" or "I am enough".
Country of origin: Australia.
Measurement: Approx 4cm x 4cm.
Interesting: Tiger's eye can be used as a good luck stone, perfectly harnessed in worry stone form to move with you throughout your day. Inspiring confidence while protecting you. Confidently stepping up and taking action to further your life. Challenging you to step outside of the box and make a positive impact on the world around you. 
Please be aware each piece is made from natural stones and has been hand carved and polished. The item you are sent may vary slightly from the one pictured although will always be similar. 
 *Cleansed with Palo Santo & charged under the full moon.