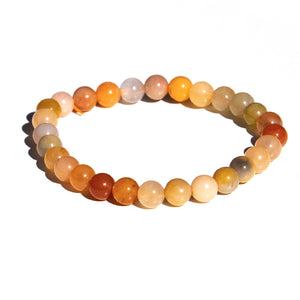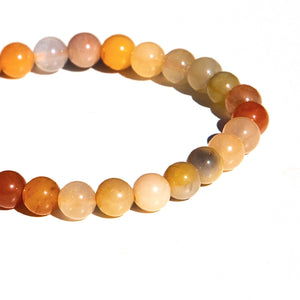 Orange Agate Bracelet
Regular price
Sale price
$30.00
---
Orange Agate
'The uplifter'
I am an agate, the stone of balance and release. I want you to feel whole, valued and loved in your life. Aligned with your truth and living your life consciously to share this feeling of peace. Reach for me at times of stress for assistance with everyday challenges. I hope to relive you of frustration and overwhelm, clearing your mind of negative thoughts. My natural citrus colouring embraces uplifting feelings, focused on vitality and positive energy in your every day. In terms of communication I work with you not only in the human form of communication but also in connecting with the environment in a more universal way. 
I am an ancient stone with a delicate energy, although I posses strength not expected from my appearance. I have a history of being used for protection. My modern form of this is to assist with providing the courage to trust in your own instincts and accept the good in the universe. Live from a place of light, connect from a place of love and experience the world from a place of all consuming gratitude.
Properties: Peace. Harmony. Security.

Use: Crystal on skin skin contact worn on the wrist, stacked or singularly. 
When crystals have direct contact with the skin they are better equipped to transmit their vibrations in alignment with your own energy.
Shape: Round - the spherical shape of the beads allows an even flow of energy.
Colour: These pieces are various orange hues. Orange - uplifting.
Chakra: All - working on aligning all seven chakras.
When your chakras are in alignment, your physical self and spiritual self are fully receptive to the energy of the universe. You'll feel deeply at peace and brimming with vitality. You are aligned with a stable chakra energy centre within you that nourishes you from the inside out.
Intention: For added meaning set an intention to your piece or use a mantra such as 'I am worthy of all the good things that happen in my life' or 'I honour all that I am and continue on my journey in life with consciousness at the forefront'. 
Country of origin: Brazil.
Interesting: Agate is said to help overcoming bitterness, anger, and resentment. Helping to let go of negative feelings towards others and find the courage to start again after a traumatic emotional experience.
Please be aware each bracelet is made from natural stones. The item you are sent may vary slightly from the one pictured although will always be similar. Each bracelet consists of natural stone beads and elastic.

Approximately 18cm circumference to fit over the average size adult hand and sit comfortably on the wrist. Beads are 6mm each.
Cleansed with Palo Santo & charged under the full moon.