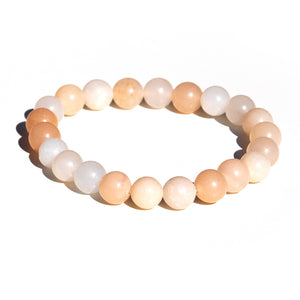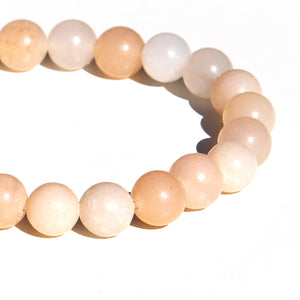 Peach Calcite Bracelet
Regular price
Sale price
$40.00
---
Peach Calcite
'The creativity connector'
I am here to help promote your creativity by assisting with converting ideas into reality. Encouraging a playful and friendly outlook. As I am a calcite I am known for my tranquil soothing energy. My greatest gift to you is confidence to step forwards in life to express yourself freely. I assist with this by connecting you to your higher self and purpose. My aura is softly sweet and nurturing, aiming to increase motivation and drive to achieve your highest hopes.
I aim to support you emotionally through times of stress to assist with decisions coming through a clear mind with the best of intentions towards a fulfilling centred life. Listen to your creative voice, connect with it through self expression and transition through life with confident consistency. 
Properties: Creativity. Self expression. Confidence. 
Use: Crystal on skin contact worn on the wrist.
When crystals have direct contact with the skin they are better equipped to allow their unique vibrations to align with your own energy.
Shape: Round - the spherical shape of the beads allows an even flow of energy.
Colour: These pieces are softly coloured hues, varying in shades from white to peaches. May include some inclusions. Peach - sweetness. White - hope. 
Chakra: Activating both the sacral and solar plexus chakras, peach calcite works to encourage us to tap into our inner confidence.
Sacral - the second chakra located right below the navel in the centre of your belly. It is the energy centre for pleasure and the overall enjoyment of life. When aligned we can expect the relationship with ourselves and the world to feel harmonious, pleasureful, and nurturing.
Solar Plexus - the third chakra located in the upper belly at the diaphragm. It is the energy centre for personal power including confidence and self-esteem. It helps with feeling in control of your life. When aligned we can expect to live with a strong sense of identity, purpose and confidence.
Intention: For added meaning set an intention to your piece or use a mantra such as 'I embrace positivity and inner peace' or 'I choose to see the wonder in the world'.
Country of origin: Mexico.
Interesting: Peach Calcite is thought to assist with psychic abilities by broadening intuition. Often used in meditation due to this belief.
Please be aware each bracelet is made from natural stones. The item you are sent may vary slightly from the one pictured although will always be similar. Each bracelet consists of natural stone beads and elastic.
Approximately 18cm circumference to fit over the average size adult hand and sit comfortably on the wrist. Beads are 8mm each. 
Cleansed with Palo Santo & charged under the full moon.