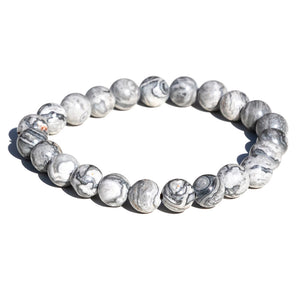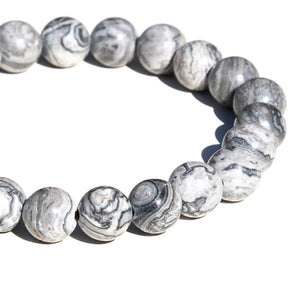 Picasso Jasper Bracelet
Regular price
Sale price
$40.00
---
Picasso Jasper 
'The art of life stone'
I am a creative stone known for my ability to promote inner clarity and interpretation of your unique thoughts to feel a deep sense of stabilising calm as you navigate through life. I act like a magnet for attracting positivity. Allowing those aligned with your purpose to enter your life with an awareness of the beauty within others. I aim to facilitate forming lasting connections from a place of genuine acceptance.
My energy is gentle with a constant frequency, I am best worn daily to attract joyful abundance. Think of me as a modern day best friend symbol. Assisting also to renew lost friendships or to help guide during relationship transitions. The art of life is a delicate dance between reality and imagination, allow yourself to dream and share this gift with the world. Accept the loving support of friends as you support them and remember you are never alone in this human experience.
Properties: Friendship. Creativity. Calming.
Use: Crystal on skin skin contact worn on the wrist, stacked or singularly. 
When crystals have direct contact with the skin they are better equipped to transmit their vibrations in alignment with your own energy.
Shape: Round - the spherical shape of the beads allows an even flow of energy.
Colour: Patterning of grey and white hues with some rust coloured inclusions. Grey - diplomacy. White - hope. 
Chakra: Picasso Jasper connects both the sacral and solar plexus chakras. When in alignment they work to provide you with feelings of balance and joy. Providing motivation to be your most authentic self in all you do and taking responsibility in every choice you make. Creating the reality you want to live in.
Sacral - the second chakra located right below the navel in the centre of your belly. It is the energy centre for pleasure and the overall enjoyment of life. When aligned we can expect the relationship with ourselves and the world to feel harmonious, pleasureful, and nurturing.
Solar Plexus - the third chakra located in the upper belly at the diaphragm. It is the energy centre for personal power including confidence and self-esteem. It helps with feeling in control of your life. When aligned we can expect to live with a strong sense of identity, purpose and confidence.
Intention: For added meaning set an intention to your piece or use a mantra such as 'I attract abundance' or 'I value my connections with others'.
Country of origin: USA from the state of Utah.
Interesting: This stone is indeed named after the famous artist Pablo Picasso. The abstract pattern is the result of heat and pressure within the Earth. 
Please be aware each bracelet is made from natural stones. The item you are sent may vary slightly from the one pictured although will always be similar. Each bracelet consists of natural stone beads and elastic.
Approximately 18cm circumference to fit over the average size adult hand and sit comfortably on the wrist. Beads are 8mm each.
Cleansed with Palo Santo & charged under the full moon.