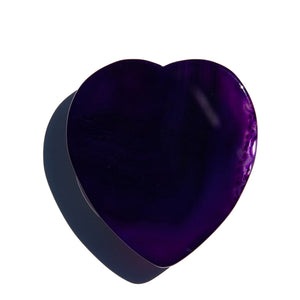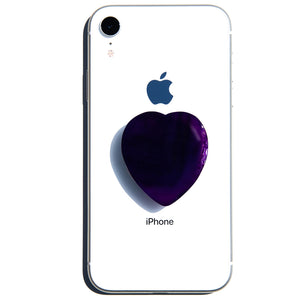 Purple Agate Pop Socket Heart
Regular price
Sale price
$45.00
---
Purple Agate
'The gratitude stone'
I am a stone of balance and release. I want you to feel whole, valued and loved in your life. Aligned with your truth and living your life consciously to share this feeling of peace. Reach for me at times of stress for assistance with everyday challenges. I hope to relive you of frustration and overwhelm, clearing your mind of negative thoughts. In terms of communication I work with you not only in the human form of communication but also in connecting with the environment in a more universal way. Beneficial guidance for the modern use of your mobile phone.
I am an ancient stone with a delicate energy, although I posses strength not expected from my appearance. I have a history of being used for protection. My modern form of this is to assist with providing the courage to trust in your own instincts and accept the good in the universe. Live from a place of light, connect from a place of love and experience the world from a place of all consuming gratitude.
Properties: Peace. Harmony. Security. 
Use: Applied to your phone case for everyday practicality.
Crystal on skin contact when carrying you phone with the pop socket filling your palm. When crystals have direct contact with the skin they are better equipped to transmute their vibrations in alignment with your own energy.
An alcohol wipe is provided with each pop socket purchase. Prepare your case using this.  Peel off the white paper on the back of the socket to reveal the sticky surface and apply once case is completely dry. Push firmly at the base for a strong bond to form. It is recommended to leave the two pieces adhere for up to 24hours before use for the strongest connection.
Shape: Heart - the universal symbol of love, designed to welcome pure thoughts into your space.
Colour: Purple - transformation, strength, resilience.
This piece is dyed to achieve it's depth of colour.
Chakra: Crown - the seventh chakra located at the crown of the head. Is the meeting point between the physical body, the universe and the soul. This chakra embraces the gratitude for your life. When balanced brings feelings of serenity, joy and deep peace about life.
Intention: For added meaning set an intention to your piece or use a mantra such as 'I am worthy of all the good things that happen in my life' or 'I honour all that I am and continue on my journey in life with consciousness at the forefront'. 
Country of origin: Brazil
Interesting: Agate is often found with intricate fine banding patterns. Formed by repeated layers of slow moving lava waves over layers of other stone such as quartz.
Please be aware, each pop socket is made from natural stones. The item you are sent may vary slightly from the one pictured although will always be similar. Pop socket may contain small pits and natural markings. 
*Cleansed with Palo Santo & charged under the full moon in Pisces