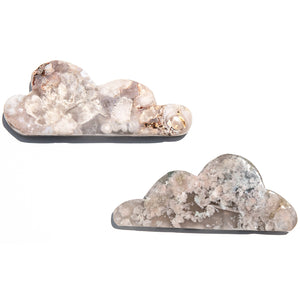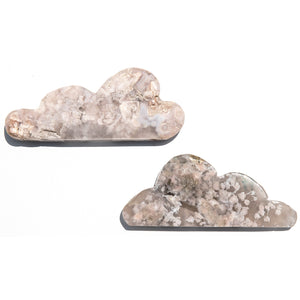 Sakura Agate Cloud - Dusk (Sale)
Regular price
$75.00
Sale price
$37.50
---
Sakura Agate Cloud
'The stress reliever'
As your emotional cleanser and peaceful companion I aim to soothe your deepest feelings of stress, assisting you towards a peaceful free mind. I am considered a stone of benefit with sleep disturbances stemming from stress or worry.
Transition with me as you focus on release, opening the mind to big picture thinking, ultimately resulting in independence. I provide space for emotional healing, moving through and overcoming old patterns, encouraging you to speak from the heart and release what no longer serves you. 
Properties: Emotional balance. Awareness. Transition. 
Use: A styling piece to infuse your space with nurturing energy. Placement in the bedroom or place of sleep is recommended. 
Shape: Cloud - the dream like shape represents tranquility. 
Colour: These pieces are softly coloured in neutral hues with blush/lilac/whiteish inclusions. Pink - Happiness. Lilac - Tranquility. White - Hope. 
Each piece is unique due to the natural formation of patterning and hand carving. These pieces are intuitively chosen. Natural grooves and pits are visible giving a glimpse of the internal world. They have been polished over to create smooth edges
Chakra: Bridges the gap between the emotions and reality by activating and connecting the base and heart chakras.
Base - the first chakra located at the base of the spine. It is the starting point for developing and maintaining balance, when aligned it brings a sense of grounding, safety and connection. 
Heart - the fourth chakra located at the centre of the spine at heart level. It is the centre of compassion, empathy, love, and forgiveness. When balanced brings feelings of connectedness, depth in relationships with others and love for oneself.
Intention: For added meaning set an intention to your piece or use a mantra such as 'I will achieve everything I am working towards', 'I've got this' or 'the world is my oyster'. 
Country of origin: Madagascar.
Interesting: Also known as flower agate. This is a form of agate with chalcedony inclusions that resemble tiny floral formations like that of the cherry blossom tree.
Measurements: Approximately 8cm L at base, 4cm W at highest curve. 
In purchasing from the 'perfectly imperfect' section you are acknowledging the pieces are inconsistent in quality with stock from the shipment. They have flaws, chips or other imperfections and no return is accepted as they are discounted to compensate for this.
These pieces are hand carved and as a result may not be perfectly symmetrical and may vary in thickness. The pieces are self standing.
Purchase is for one sakura agate cloud. Reduced -50%.

Cleansed with Palo Santo & charged under the full moon.