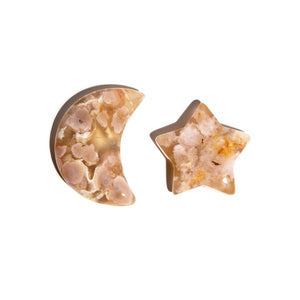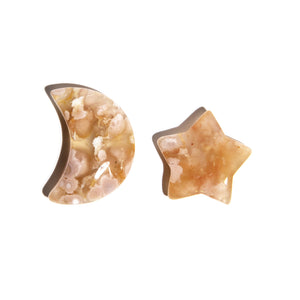 Sakura Agate Small Moon & Star - Calendula Clouds
Regular price
Sale price
$40.00
---
Sakura Agate
'The Daydreamer'
The stone of dreamers, I am here to nurture and manifest your highest hopes in life. Your encourager for self growth. Sending positive energies to encourage blooming into your full potential. I act like a shield to guard you from your own fears and self doubt holding you back. When you are goal driven I am here to help you strive after them constantly. In terms of communication I assist with enhancing mental functions such as concentration, helping you to remain fully present during your conversations with others. I work to change negative energy into positive energy. I want to provide you with stress free connections.
Take time to gaze into my enchanting internal world, like a seed that grows into a plant bearing flowers that mature into fruits. Let my etherial pattern constantly remind you of your roots and their destination. Keeping in sight where you have come from to remain grounded, while having the destination at the top to give you purpose to keep moving towards your dream. My energy is softly feminine, my effect is soothing and joyful, like running through a field of scented flowers, firing up your passion for the pursuit of your dreams.
Properties: Self growth. Motivation. Nurturing. 
Use: The perfect pocket or handbag piece due to the small size. The smooth surface is inviting to roll between your fingers in your pocket. This may assist to calm and centre the bodys energy for a sense of balance. 
Shape: Moon - new beginnings, hope, transition. Star - positivity, happiness and renewal.
Colour: This pair is a soft neutral hue with whiteish, lilac and honey coloured inclusions. Neutral - peace. White - hope. Lilac - tranquility. Yellow - happiness.
Chakra: Bridges the gap between the emotions and reality by activating and connecting the base and heart chakras.
Base - the first chakra located at the base of the spine. It is the starting point for developing and maintaining balance, when aligned it brings a sense of grounding, safety and connection. 
Heart - the fourth chakra located at the centre of the spine at heart level. It is the centre of compassion, empathy, love, and forgiveness. When balanced brings feelings of connectedness, depth in relationships with others and love for oneself.
Intention: For added meaning set an intention to your piece or use a mantra such as 'I will achieve everything I am working towards', 'I've got this' or 'the world is my oyster'. 
Country of origin: Madagascar.
Interesting: Also known as flower agate. This is a form of agate with chalcedony inclusions that resemble tiny floral formations like that of the cherry blossom tree.
Measurements: Approximately moon 3cm in length, star 2cm in length. This purchase includes one sakura agate moon & star pair. 
Cleansed with Palo Santo & charged under the full moon.